4th Annual Saving OurSelves Health Fair & Community Expo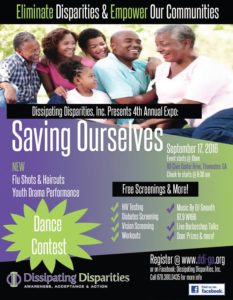 4th Annual Saving OurSelves Health Fair & Community Expo
LIVE Barbershop Talk! FREE Haircuts (limited)! Light refreshments! Awesome sessions! Free health screenings!
This year Dissipating Disparities, Inc. is working hard to bring a bigger and better – "Saving Ourselves – Community Expo and Health Fair"!!! This event is intended to bring awareness to our communities about various health conditions, financial issues, and more disparities that are wreaking havoc across our cities today. Not to mention there will be workout sessions, educational opportunities, and the list goes on to expose our communities to more and help us uplift and empower each other!
If we do not stand together today, we will all fall separately tomorrow! We must work together in order to save ourselves!
Register today! Print your ticket and bring with you to check-in at 945am on September 17th!!!
Looking forward to seeing each and everyone of you there!